Lake Central High School Student Kai Blankenship's Eighth year shaving his head for St. Baldrick's
   Many people in the Lake Central School District have participated in the St. Baldrick's program over the years. St. Baldrick's is a foundation that works to spread awareness and raise funds for children diagnosed with cancer. People that participate raise donations for the foundation across a time period before March. The donation collection then leads up to the participant shaving their head in order to raise more awareness. 
   Sophomore Kai Blankenship has been shaving his head since he was in third grade. He has raised over 27 thousand dollars over the past eight years of shaving his head. 
   "[The first time I shaved my head was] when I was in third grade. We read something about cancer, and then I was like, 'I want to help that.' I heard about how shaving your head helps." Blankenship said. 
   After talking with his mom, Kolling Fourth Grade teacher Mrs. Kristi Blankenship,  about wanting to shave his head right then and there, she decided to conduct some research and see how they could go about helping kids with cancer. She then discovered the St. Baldrick's Foundation and began the process of raising money. 
   The first year Kai Blankenship shaved his head, his sister joined him. Although she did not choose to continue to shave her head, she still helps support her brother whenever given the opportunity.
   "My sister did it with me the first year. It was really cool. It was awesome because we were both bald and it wasn't just me, but I kind of like being bald. I don't really care about my hair that much," Blankenship said. 
   After seven years of shaving his head, Blankenship decided to do something fun with his hair prior to shaving it. Salon Sein teamed up with the cause and dyed his hair for free as well as held an event when his head was shaved. 
   "I said whoever pushes me over my goal gets to choose the color I dye my hair. I set the goal, and then one of the Kolling families pushed me over and then they chose rainbow," Blankenship said. 
   After the goal of 1,500 was reached, donations did not cease to come in. This year, Kai Blankenship raised 4,283 dollars for the St. Baldrick's foundation.
   "This year, we set our goal purposely lower because we knew people were struggling financially this year. A lot of people pulled through and we did really well," Blankenship said. "I'm so grateful to everyone that continues to donate every year. This wouldn't be possible if the people in the community didn't keep supporting me and helping kids who need it."
   Salon Sein hosted a St. Baldrick's event and Blankenship had his head shaved at the event. His friends and family were in attendance, and one of his friends decided to shave his head as well to show support.
   "Salon Sein hosted an amazing event and was so kind to me and everyone involved. As for how the event felt, it was great! One of my friends, Aidan, even decided that day that he was gonna shave with me! He went in just to watch me and we both left bald. It was so cool that he supported me and the cause like that," Blankenship said.
   Supporting St. Baldricks can be as easy as sharing a social media post, but shaving your head can bring awareness wherever you go. 
   "It's a fun thing, and it grows back. So if you're thinking about doing it, it's a great cause, and even if you don't think you're going to have a bunch of people donate, you can still do it. You can still support the cause. It spreads awareness. Even just you being bald. You don't have to raise a bunch of money to do it and be part of the event," Blankenship said. 
How do I get involved?
   If you are interested in becoming a shavee, you can find an event near you using the resources on the St. Baldrick's website. Both in-person and virtual events are held all over the United States, and if you would like to shave solo, that option is always available. 
   After finding an event near you or deciding to shave solo, you can personalize a participant page also using the St. Baldrick's website. This page will help keep track of your donations and allow people to donate directly to your personalized website. 
   Once the page is created, start spreading the word and collecting donations. Collect donations up until the day you shave your head, and continue spreading awareness through rocking the bald.
   If you do not want to shave your head but still want to help out, there are many other ways to support the foundation. Donating to the foundation, being an event organizer, volunteering at an event, or if you are qualified, being an event barber are all necessary roles in order to ensure all the events run smoothly for the shavees. 
   For any further information, please visit https://www.stbaldricks.org.
About the Contributor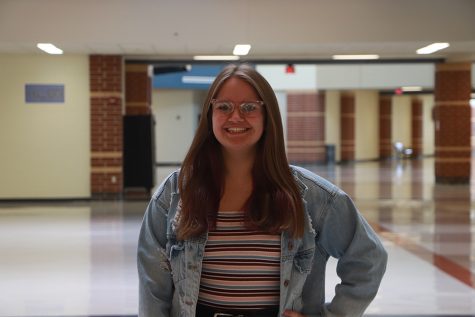 Brenna Sealy, Director of Public Relations
Hi! My name is Brenna and I am the Public Relations Director this year. This is my third year in pub and I am beyond excited to continue learning and creating!