I tried the Dunkin´ Donuts Avocado Toast- Here's What it Tastes Like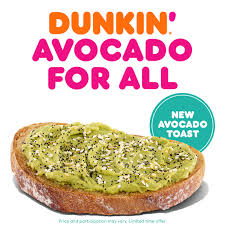 Dunkin recently released their new avocado toast in United States locations. I wanted to see how this popular breakfast meal compared to other avocado toasts I have tried. Avocado toast became popular in the last ten years and now is a staple item at many breakfast restaurants. Avocado toast is typically made by freshly cut avocados on a slice of bread with added ingredients unique to everyone that makes it. 
The Dunkin avocado toast was hot when received, and it was on a slice of toast that was bigger than the usual store bought bread. The avocado toast had more a consistency of guacamole than sliced avocados. The avocado had sprinkles of pepper and lemon also added for flavor. Garlic and onions were also added on top. For me, the lemon was a little bit overpowering, but other than that it had a good overall flavor. 
The bread was sourdough toast which I thought was a nice added touch. It tasted fresh and just bought. I enjoyed the bread aspect for sure. As for the avocado, it was spread evenly however I thought that a lot of avocado was put on for the amount of bread that was given to me. The seasoning on the toast decreased the powerful avocado flavor and added a nice touch. 
The price of the toast, 2.99, is a great steal since avocado toast at typical locations can be pricey. This is served all day as well, so it could be used for a snack or lunchtime meal. Overall, I think the simplicity of being able to go up to a drive thru window and order avocado toast is well worth it.