Love on Tour comes to Chicago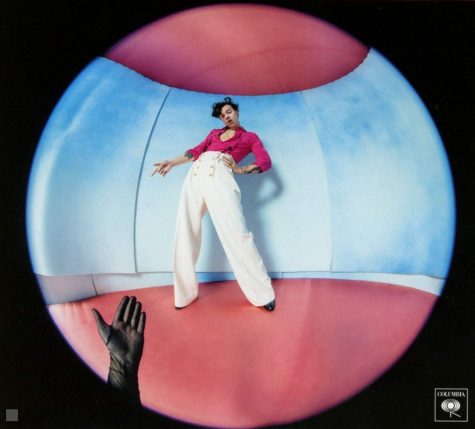 On Sept. 4, 2021, Harry Styles began his North American tour of his most recent album, Fine Line. He began in Las Vegas and made it to Chicago on Sept. 24 and 25. These two shows were held in the United Center.
   "It was amazing seeing him live. During 'Treat People with Kindness' he made the whole arena dance and he waved around Black Lives Matter and gay pride flags. The concert made me so happy and sad. There were so many emotions. I was honestly in disbelief that he was real and that I was actually there. I had to wait so long to see him live because of COVID," Victoria Torres (11) said.
   Harry Styles has been known to display LGBTQ+ and equality-friendly flags while on stage. On his debut tour, he waved a gay pride flag at an arena that didn't allow it. He felt that it shouldn't be something that should be restricted. When the pandemic got too bad to go on tour, Styles' announced that his world tour would be postponed. As of right now, he is only continuing on his North American tour.
   "My favorite part was when he first came on stage and everyone in the crowd was going crazy. The concert was so special because he interacted with so many people in the crowd and made everyone feel welcomed and loved," Allison Buchhaas (11) said.
   During his shows, Styles has time and time again had conversations with his audience. From announcing pregnant women's unborn baby's gender to making jokes with people, Styles enjoys engaging with his fans. His fans know that Harry Styles wants his shows to be a safe place.
   "My favorite song he sang was either 'Carolina' or 'Fine Line'. 'Carolina' is more of an upbeat, fun song. 'Fine Line' is a sad song, but hearing it live was very special for me," Kylie Pietranczyk (12) said.
   Many fans, live or seeing videos on social media, have been responding positively to see Harry Styles back on tour. The set list may vary from show to show. Styles' North American tour will continue until Nov. 20, 2021.