U.S.A. Olympic Gymnasts Testify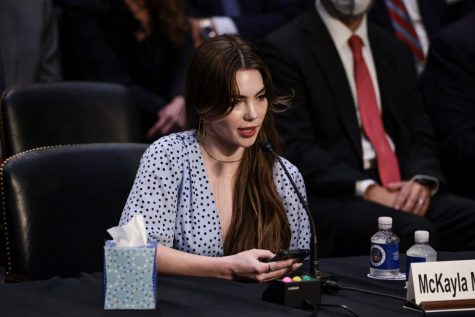 Elite American gymnasts, including Olympic Champion Simone Biles, have testified on the FBI's handling of the Larry Nassar situation. Nassar was the team doctor of the United States women's national gymnastics team. He has recently been charged with the sexual abuse of over 150 women and girls. Although Nassar is facing up to 175 years  in prison, the athletes are still not satisfied due to the way the FBI handled the investigation. 
   "I think the whole situation has been downplayed for too long and it's time for their voices to be heard," answered Isabel Chavez (10) when asked if it was important for the U.S. team's story to be shared. 
   Chavez plays soccer, so she had something to say about how to protect female athletes in all sports. 
   "I feel like to protect female athletes, we should start taking their stories seriously and not call them weak for taking much needed breaks," said Chavez. 
   The gymnast has spoken up about how they blame the entire system for allowing the abuse to continue for so long to so many young women. 
   "As a female athlete I do believe the FBI failed to support female athletes. No athlete should have to go through what these athletes went through. In fact, no one should. I feel the FBI could have done a better job supporting the survivors because it is not right that they had to experience that," remarked Maggie Grudzien (12). 
   Simone Biles withdrew from the recent Olympics to focus on her mental health after the abuse she endured. She has even come out and said that she should've quit gymnastics long before the Tokyo 2020 Olympic Games. 
   When questioned how this type of abuse would affect an athlete and the relationship they have with their sport Chavez answered, "I feel like it would make them feel at war with the sport almost, or maybe even associate the abuse with the sport and not the abuser".