Q&A Cate Malesh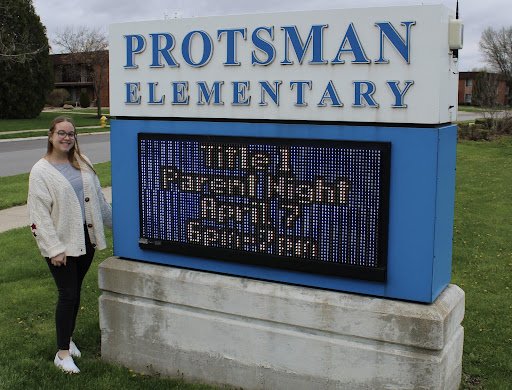 Q:Please describe how student teaching works and how you got involved. 
There's a class called Education Professions. I heard about it through a friend whose counselor told her about it. My counselor wasn't aware of it until I told them. I go to my assigned school during periods three, four and seven and leave at 2:09. Responsibilities depend on the teacher you're working with. My teacher has me actually teach and get involved with small groups, but I know of other student teachers who just make copies and grade papers.
Q:Do you receive a grade? Who do you report to at LC?
A: Yes, I do receive a grade. Mrs. O'Hara, one of the gym teachers, is the teacher we report to. We have a specific PtE for Education Professions where she'll give us our assignments.
Q:Do you receive transferable college credits?
A: Unfortunately, we do not receive college credit. However, I feel like it has prepared me for what to expect when I'm in college.
Q: What made you choose to teach? Are you planning to major in education?
A: I chose student teaching because I knew I wanted to be a teacher. I figured this would be a good way for me to make sure education was the right choice for me. Yes, I am majoring in elementary education in college.
Q: How does it fit into your schedule? How many other classes did you have this year?
A: Student teaching is periods three,four and seven. On blue days, I leave after the 2nd period and stay at the elementary school until 2:09. On white days, I leave after 6th period and stay there until 2:09. I take three other actual classes and the 4th is a study hall so I really only have assignments for three classes.
Q: Where do you students teach? What grade? Teacher?
A: I teach at Protsman Elementary, which is where I attended. I'm in a second-grade classroom with my former first-grade teacher, Mrs. Dillard.
Q:  How did you get matched? Did you have to set it up yourself?
A: At the beginning of the year, we had an option to choose our own teacher or get randomly placed. I decided to reach out to Mrs. Dillard to see if she wanted to have me as her student teacher. She said yes, and that's how I got matched. Most of the kids did it this way, but a few went random. For random assignments, Mrs. O'Hara sent an email to the elementary teachers in the district asking if they wanted a student teacher. 
Q:  What sort of tasks do you do at school?
A: I grade papers and occasionally make copies. For the most part, I am actually involved in the teaching process. I usually lead small groups every day. Occasionally I teach a lesson to the entire classroom. 
Q:  Do you feel your experience will help you at college?
A: Yes, I feel that this experience will definitely help me in college because I already feel comfortable in the classroom. I feel confident in working with students and how to help out the teacher.
Q: What advice would you give to younger  students wanting to teach? Are there certain classes that would help them? Are there required classes they should complete before Senior year?
A: I would tell them to definitely try this out if they can because it's a great way to see if you really want to go into education or not. Personally, I didn't take any specific classes, but other students in the program took Child Development. There are not any required classes to take before taking this class. The main thing is for them to ask their counselor about it since it is not very well known.