Double-Duty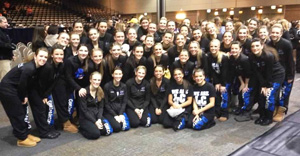 Competing is nothing new for the varsity and junior varsity dance teams, but competing twice in one day posed a new challenge. Both teams practiced over Christmas break in preparation to compete at Munster on Saturday Jan. 12 in the morning and at the University of Illinois at Chicago later that day.
The first performance was varsity jazz at Munster High School followed by junior varsity jazz. In order to save time, both hip-hop performances were organized to take place shortly after jazz.
"It was very stressful, because I had to make sure I remembered to pack every piece of my costume for UIC. It was also fun, because I was surrounded by my team," Kelsie Verhoeve (9) said.
After both varsity and junior varsity's performances were through, the girls rushed back to the room, gathered their stuff, and got back on the bus to depart for UIC. Shortly after arriving in Chicago, it was time for the teams to start preparing for another jazz performance.
"I felt like it was easier to perform jazz at UIC, because we already performed it at Munster. We were all more prepared," Daniella Dombovic (11) said.
The last performance of the day was hip-hop, and after putting on their performances, the girls finally had some time to relax. While waiting for awards at UIC, varsity and junior varsity were informed that they had received first place in both jazz and hip-hop at Munster earlier that day.
At 9 p.m., it was time for awards at UIC. Junior varsity was awarded first place in both hip-hop and jazz. Varsity received second place in hip-hop and third in jazz.
"I think doing two competitions was a great experience for us as a team, and we handled the pressure very well. I am so proud of my team," Lauren Skertich (12) said.