Boys Swim Team Faces Defeat at Crown Point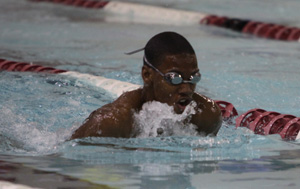 The boys varsity swim team suffered a loss at Crown Point on Jan. 15, 2013. The Indians gave it their all, but the Bulldogs managed to come out on top.
"I was kind of disappointed. With our captains out, we knew it was going to be a tough meet from the start, but we always have DAC to get the rematch we are hoping for," Tyler Mitchuson (11) said.
Crown Point is usually a tough competitor for Lake Central, and they didn't let up on Tuesday. They won numerous events and outscored the Indians overall.
"Crown Point was also tough my freshman year when I was on [JV]," Mitchuson (11) said.
The Indians, after the recent loss, will continue to work toward improvement; The varsity boys swim team will compete in the Penn Invitational on Jan. 19, at 10:00 a.m. held at Lake Central.