Lake Central High School's Referen-DONE
The room was filled with a mixture of anxiety and excitement. The numbers rolled in as students, staff, administration and parents anxiously awaited the verdict. By the end of the night, Lake Central had a non-official win for the referendum.
Though not totally official yet, there was much celebrating throughout Amarillo Road House as the "Friends of Lake Central" group united to watch the results of the election. With a margin of about six percent, the Lake Central referendum was winning. The room was bursting with excitement as Superintendent Dr. Larry Veracco and school board president George Baranowski gave speeches.
"I'm thrilled and greatful to taxpayers for voting yes. This is going to help people for generations to come," Dr. Veracco said.
The cake was cut and the celebration went on. The referendum will benefit both Protsman Elementary School and Lake Central High School. From the school board to the Lake Central administration, everyone was cheering about the apparent win.
"My initial reaction was pure happiness. I know what our students and teachers have gone through. We just want to provide a great educational environment and we finally can do that," Principal Robert McDermott said.
The results according to www.nwitimes.com
Yes: 6,775     No: 5,434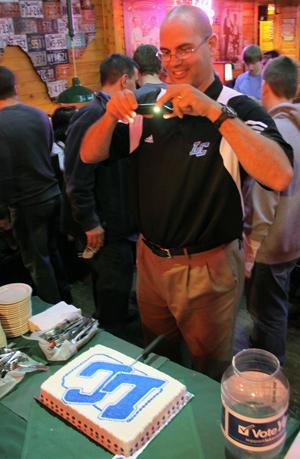 Principal Robert McDermott takes a picture of the LC cake at Amarillo Roadhouse Tuesday night.