Swinging away at senior year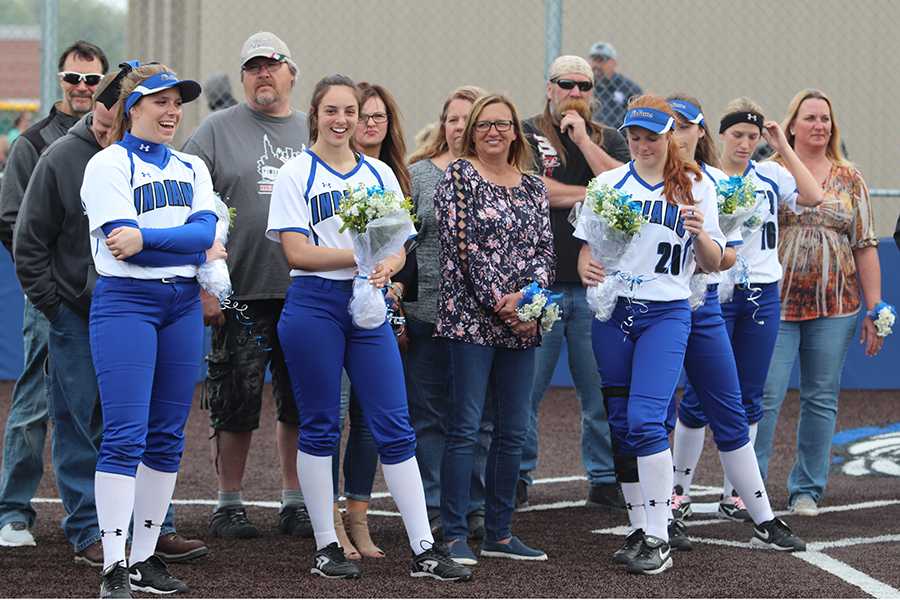 On Tuesday, May 15, the varsity softball team celebrated their seven senior girls. The lady Indians hosted the Michigan City Wolves.
"The seniors had a big impact on the team this year, they were good leaders and we always looked up to them when we needed advice or anything. They just made it really fun this year. What I'm going to miss the most about them is how goofy they all were and how well we all got along," Jenna Towle (11) said.
The girls beat Michigan City 10-0 on their senior night to finish 13-1 in conference play. they were named the Duneland Athletic Conference champions.
The lady Indians got their their first seven runs in during the third inning. Two home runs opened up the floodgates, and the runs kept coming.
The seniors were celebrated by walking out with their parents before the game started, and were treated to gifts and cake once the game was over.
All seven of the senior girls will be continuing their athletic and academic careers at various colleges this upcoming fall.
"I'm really just going to miss everyone on the team, I feel like we all gel well together," Madisen Tucker (12) said.
These seniors are not done yet. Post season is just up ahead and these girls are ready for one last run.