Hockey Heros
On Saturday, Nov. 10, Lake Central's Blue Ice Hockey team defeated Culver Academys' B-Team. The game ended with the score 4-1.
One strategy to winning a game or meet could be anticipating how that particular game could end up.
"Our predictions for this specific game were pretty high, looking back at last year, we had a good team, obviously, [since we were] going to nationals, but we kind of expect to accomplish the same goals we as last year. We knew this was a weaker team, we expected to win," Brett Bandstra (11) said.
Along with predicting an outcome for a game, another way to prepare is to assess how the opposing team will play and plan how to beat them.
"We prepared by studying film [of the opposing team] beforehand at practice. We go into every game believing that we can beat the team we are facing that game," Nick Pezzuto(12) said.
Reflecting on what good things happened in a game can give players a more positive attitude and help ones' performance next game improve.
"The game went okay. We came out with the win, the systems that we practiced were there. Throughout this game I feel like we played good defence. We only let one goal in so I feel that we did good in that category," Bandstra said.
Learning from mistakes and taking away a lesson from each meet played will help players become better. Some teams discuss together what they could have done better.
"We could always improve on using our teammates. What I mean by that is not being selfish with the puck, passing the puck more often." Bandstra said.
A contributing factor to overall team improvement is the relationship with teammates. If the relationship is good, it can lead to better game play and the same with a worse relationship and worse game play.
"Our team has a very close bond I feel. A lot of us grew up playing together since we were kids, it's like a family. I think the best part is the seriousness all the players have when it comes to game time. I've always been like that and it's good to have a team that has the same mindset coming on to the ice," Noah Steepleton (11) said.
Many students come out to the many sporting events of Lake Central and the hockey team would like an audience to come out to see them play and cheer them on.
"Everyone needs to go to our home games. They are fast pace and fun to watch. And we love to see huge fan sections supporting us. It's great to see students come out and cheer us on." Steepleton said.
About the Contributor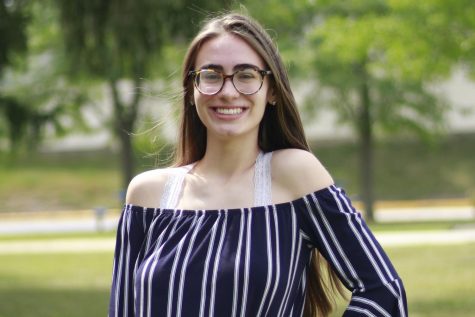 Hannah Kosinski, Director of Public Relations
Hello! My name is Hannah Kosinski. I've been in journalism since 7th grade and I am excited for my last year as a senior. I am the director of Public...