Varsity Soccer Victorious Over Michigan City
 On Wednesday, Aug. 26, the boys varsity soccer team went head-to-head against Michigan City. The game started off rocky, with both teams tying 0-0 at halftime. The boys quickly recovered, however, and finished strong, scoring 8 points in the second half.
    "I thought we had a rough start for the first half, but in the second half we started passing the ball and staying composed in front of our goal which is why we were able to score 8 in the second half," Mathew Schwer (12) said.
   Due to the uncertainty of the length of the fall season, the athletic department made the decision to move senior night for all fall sports to the first home game of the season. For many players, senior night is something they have looked forward to since freshman year.
   "I believe moving senior night to last night was a good decision, especially when anything could happen, and we could get shut down at any point. I enjoyed getting a big win with the guys and it will for sure be memorable, but as long as we had a senior night I would've been happy no matter when it was," Emilio Zambrano (12) said.
   With COVID-19 cases still on the rise, it is still unclear if fall sports will be able to have a full season. To prevent the spread of the virus within sports teams, new protocols have been enforced, including mandatory mask-wearing anytime a player is off the field. The players are optimistic, however, because the mandates could mean that their season will not be cut short.
   "The pandemic surprisingly has not been affecting practices and games as much as I thought it would," Schwer said.
   Emilio Zambrano also commented on the new protocols, stating that while the mandates may be uncomfortable, they are necessary to ensure their season lasts as long as possible. The team is grateful to be able to play at all, and they are all working hard to continue to train and practice as much as possible.
   "The pandemic definitely has put a limit on what we can do during training, but to be honest, we know this is what we have to deal with and get used to, so we never complain and we abide by the rules each and every day, whether it be training or playing games, and we give it our all because in the end we don't know how long we could last, because anything could change," Zambrano said.
   Although the season has been anything but ordinary, the players are in good spirits about the rest of the season, no matter how long it lasts.  
   "I'm definitely looking forward to continuing to improve as a team every game and to keep winning as many games as we can. Winning state is our main goal. As far as personal goals I would like to be all state this year or all conference," Schwer said.
About the Contributor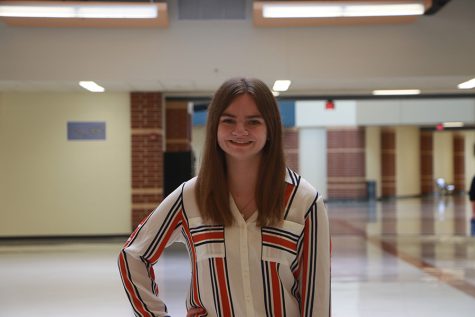 Alayna Wilkening, Design Editor
Hey! I'm Alayna and I am one of the design editors this year.  This is my second year in pub and I'm so excited to see what this year has to offer!