Bringing the Season to a Close
On Sept. 24, the girls Varsity golf team had a practice at Palmira Golf Course. This will be their last practice before Regionals. Due to Covid-19 many sports teams have had to adapt to the new guidelines while still trying to have a functional season. But the team has stated that they were just as motivated as previous seasons.
   "I think this season has gone really well so far, we've all improved a lot. This season I learned how to keep my mental game more stable while I'm playing. I don't get as upset anymore when I'm doing bad. Also, I've learned that you're not always going to have a good round, and when you have a bad round, you just need to shake it off and move on," Kamyran Golec (10) said.
   The team has practices Monday through Saturday for two hours, and tournaments on Friday and Saturday. With all their shared time the players have confessed to forming a close bond.
   "We have a really fun group of girls on both Varsity and JV which makes the season much more enjoyable. [We] would stop at Starbucks or Dunkin every day on the way to practice and of course blast music and go to Target after practice. I am a senior, so this season was different in the sense that we couldn't really host any sleepovers or pasta parties before tournaments because of COVID. This made it harder to get to know some of the new girls on the team. Me and the other seniors had to reach out and make an effort to make them feel comfortable which meant grabbing DQ or inviting them to play 9 holes on the weekend," Caroline Good (12) said.
   Like many Varsity sports teams, there are a few seniors who are in their last season. Saying goodbye to a team and sport that you have been playing with for a long time can have its challenges.
   " It's heartbreaking to know that the seniors and I only had our last tryout, our last bus ride, our last Dunkin' stop in the early morning before a match, our last tournament.  Then it all ends, and becomes memories that we will forever have, and keep with us," Cierra Kubaki (12) said.
Their next meet is on Saturday, Sept. 26, at Battleground Golf Course in Battleground, Indiana. This will be their Regional tournament, their first tee off starts at 11:24 a.m. eastern daylight time.
   "For Regionals I hope we all play really well, even if we don't win, and just have fun in case it is our last match together this season," Golec said.
About the Contributor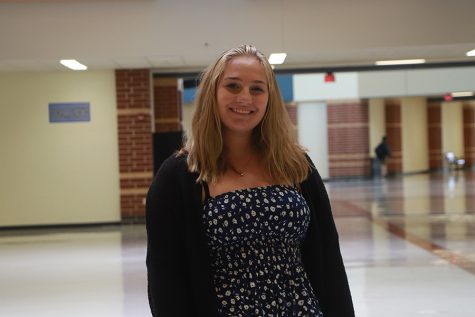 Kelly Hayes, Photo Editor
Hi my name is Kelly Hayes and this year I am a Photo Editor. This is my third year in pub. I am very excited to see how the rest of this year turns out!