JV Boys Basketball Fall to LaPorte in Last Game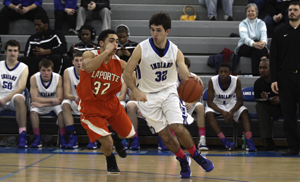 JV boys basketball played Friday night against LaPorte. The final score was 54-56, which was a close call for the last game of the season.
"It was pretty disappointing. I wanted to win for Coach Locke .I think JV next year will be pretty good, we had a lot of freshmen come up this year, so if they do not make varsity, they will be on JV," Martin said.
Even though the boys lost, the players stay positive about the season ending.
"We lost at the buzzer, but it was a good game. I wish we could have won. I think toward the end of the season we became a better team overall," Austin Praski (10) said.