Band welcomes new assistant band director: Candace Boone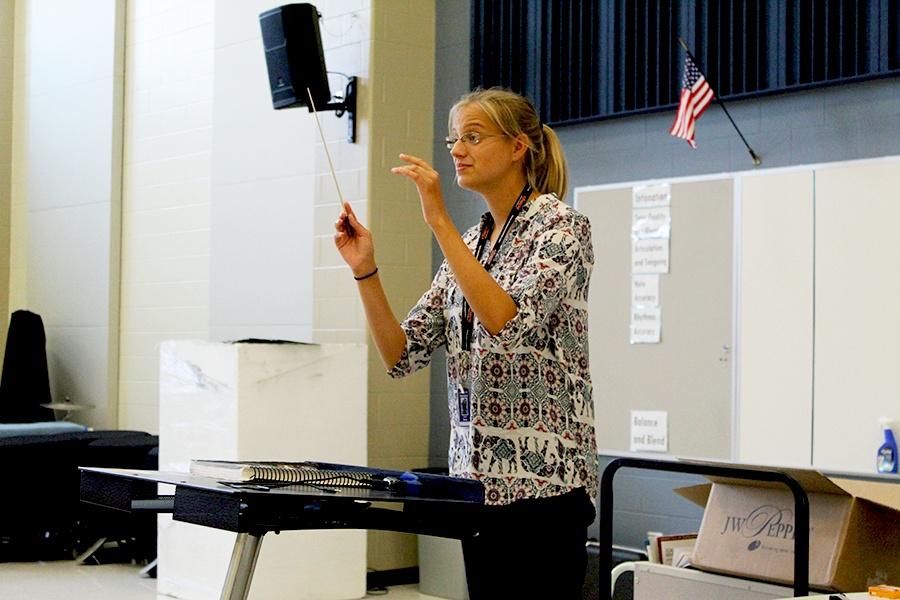 Heading into the new year the new assistant band director, Ms. Candace Boone, went to college at Indiana State University.  She worked at Eminence Community Schools, a small K-12 school and taught K-5 elementary music and band for sixth grade and up.
"My expectations were that this was a program that had a history of some form of excellence and the students knew on a level of basis how to rehearse and they definitely did meet that expectation. The want and drive to continue getting better at what they do every single day every minute of the rehearsal is hard to do but they are doing it," Candace Boone, music, said.
Ms. Boone is also working with Mr. Smith, the head band director, and the other staff on this year's Tribe of Pride marching band show titled "Alone in a Crowd."
"This year's marching band show is interesting. Since I did not get to be there for the earlier stages of the design process I do feel like I may be stepping on toes a little bit while designing it," Boone said.
She has already grown to love the students she teaches and wants to give them the best experience possible.
"I want this year's show to be something that the band can walk away from and say that we've had so many changes in the program, we still had a successful year," Boone said.
Her and Smith went to the same school and they have the same process on many things.
"Mr. Smith and I get along very well. We were from the same university so we have the same kind of background and we're already on the same page for a lot of things so it's nice to have the teamwork already there and in place for future years," Boone said.