Quarantining on Stage
   On Saturday, Sept. 12, the theatre company had their first play rehearsal for this year's fall show. The fall show, called "Everything Seems Like Maybe," is about teenagers in quarantine and the effects the pandemic has had on them. It consists of 26 monologues which will prevent any human contact on stage. One of the shows will also be livestreamed.  
  "This show demonstrates the contrasting ways that people deal with quarantine. It shows people who had personal growth and thrived in quarantine and people who really struggled with it. Ultimately, the show portrays loneliness, self-growth, and hope," Chloe Baisa (11) said.
   A typical show consists of going through a scene and the staging of that scene.  Sometimes they play a warm up game such as "zip-zap-zop." These games teach the cast members how to deal with a sudden mishap during a show. When rehearsing, they work with a partner to go over their lines, which according to Baisa, helps develop their characters and view them from a different perspective.  
   Marianna Bendinelli (12) is this year's student director. She considers herself as the director's right-hand man, so she helps assist in staging scenes and making sure everything runs smoothly. Bendinelli has been doing theatre since 7th grade and plans on doing the school musical in the spring.
   "I have done costumes for two years and it's just magical to watch the hard work you've put into the costumes shine on stage and really bring the show together. Our spring musical last year was Matilda and I worked on costumes for it. I always love the energy of opening night and getting to see people appreciate your hard work," Bendinelli Said.  
About the Contributor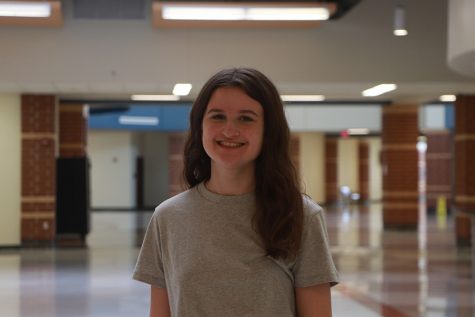 Charlotte Harmon, Print Staff
 Hello, I'm Charlotte and I am a junior.  This is my first year in publications.  I am absolutely delighted to be a part of this year's staff. ...