Principal Sean Begley Promoted to Colonel
Principal Mr. Sean Begley has been in the military since May 15, 1993. He has been in many leadership positions throughout the 27 years he has dedicated to serving the country and he has recently been promoted from Lieutenant Colonel to Colonel.
   "I am moving from Lieutenant Colonel to Colonel. I'm going from being the executive officer, essentially the chief of staff, of the 219th engineer brigade to becoming the commander, or the person in charge, of the 219th brigade," Begley said. 
   Colonel is the rank just below Brigadier General and it is a high authority position. You are required at least 22 years of experience with 3 years of being a Lt. Colonel in order to be eligible for the position of Colonel.
   "The military puts a high emphasis on command authority. With my old position as the chief of staff, my old boss who was the brigade commander would come up with the vision and we as the staff would figure it out. That staff takes that commander's vision and turns it into an executable plan that you do. Now I'm the guy with the ideas so to speak," Begley said.
   The insignia for a Colonel is a silver eagle, representing the eagle featured on the Great Seal of the United States. It signifies the hard work and dedication Begley has put toward the country.
   "It's a great honor, It's something I'm very proud of and I'm very lucky to be able to do. It's something you get to do a few times in your military career," Begley said.
   Alongside climbing up the ranks in the military, Begley works as the principal of Lake Central High School. He explained how the jobs provide information that can be implemented at each workplace. 
   "There are times where I get pulled away from school to do military stuff; there are times where I get pulled away from the military to do school stuff, but they're also symbiotic. Learning things I learn here at the school help me in my military career and things I learn in my military career help me here at school. I think the bottom line [is], being in the military makes me a better principal, and being a principal makes me a better leader in the military," Begley said.
   The combination of these occupations emphasize the importance of the people within the organization. Both of his positions involve overseeing groups of people and ensuring that everyone is trained properly and functioning at the highest of their abilities. 
   "The most important thing you have in your organization is your people — finding, retaining, training and making teachers the best they can possibly be, putting students through a curriculum that is rigorous and relevant that gets them to the next level that you get to see them be successful. You're always looking to improve the human capital in your organization. You do that in the military too; you want to see your young lieutenants become captains and those captains become majors and put them in the right situations where they get to lead and they get to train. They get to figure out things and see them take over that organization at some point.," Begley said. 
   People are not only the most important part of the organization, but they are the backbone and support of everything that happens in a person's life. This was the first promotion ceremony Begley's wife and children were able to attend due to the location of the previous promotion ceremonies being held far away
   "I am very lucky to have a supportive wife and three great kids. If I didn't have their support I would not have been able to accomplish this. I am very lucky for having great mentors in the military and here at school to help me become the person I am. I am very lucky for the family that I have, most especially my wife, who puts up with a lot so I can run off and do this stuff. I don't look at [the promotion] as, 'oh look at me,' I look at it as I wouldn't be here if it wasn't for a bunch of people here at Lake Central, if it wasn't for my family, if it wasn't for a bunch of people in the military. I'm very lucky and very blessed to have great people in my life that have helped me out. I wouldn't have been able to do it without them." Begley said. 
About the Contributor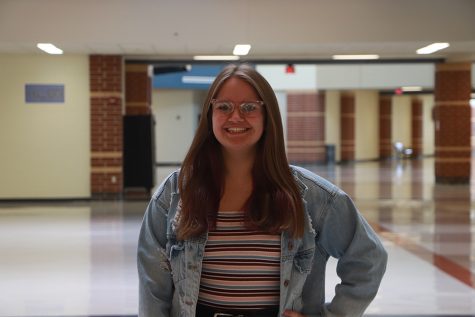 Brenna Sealy, Director of Public Relations
Hi! My name is Brenna and I am the Public Relations Director this year. This is my third year in pub and I am beyond excited to continue learning and creating!