It's/Lame
Emily Brown, Yearbook Editor in Chief
September 27, 2022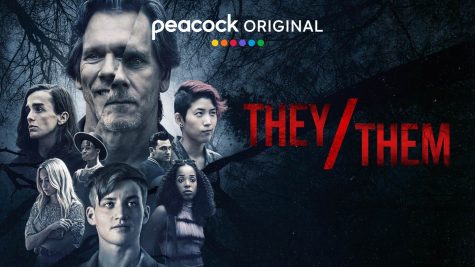 This June, we were introduced to John Logan's horror slasher, They/Them. This Blumhouse production takes us to a gay conversion camp where we are introduced to many different characters from all backgrounds all there for many reasons. 
   We are first introduced to our main character, Jordan, whose first introduction to us was to tell us their pronouns are they/them. As we are introduced to all the other characters, we are left with them all being some stereotypical display after another. 
   The camp first explains they aren't there to convert them, but to help them find their truth. That was soon dismissed once they find out there was a transgender male-to-female student who did not tell them of her transition. They say she will now be moved to the boys cabin and be called their incorrect pronouns and their birth name, also known as their deadname. 
   They introduce "traditional gender roles" such as shooting for boys and baking pies for girls. In both activities the groups get more familiar and comfortable with each other, and tensions grow. On the girls side, a teacher asks one of the students to stay after and tries to get with her. The student runs away and goes to her friend for support. On the boys side, one student tries to get with the other. While they are resting, one falls asleep and awakes to the adults surrounding him. It is revealed it was a trick to see if they would indulge in their vices, if they did, they were punished. The punishment was electroconvulsive therapy. On a screen in front of him shows provocative pictures of men and women, when the men showed on the screen electricity would pulse through his chest. 
   Despite the torture within the camp, there is also a slasher going throughout the camp. The victims slowly rack up as the killer goes throughout the camp with the power out. As everyone scatters for safety, the killer and the owner of the camp are met face to face. The killer reveals themselves as an old student, Molly, getting revenge. Molly has been disguising herself as a nurse working at the camp to get to the owner. After trying to convince Jordan to join her and kill all other conversion camps in America, Jordan refuses and the killer takes the owner's life anyway. Jordan tries to convince Molly to change her lifestyle and she refuses. Police arrived from a character who walked to the nearest town for help. Jordan walks out of the building untouched and credits roll.  
   Overall this was one of the most stereotypically displayed movies I've seen in a while. Every actor in this movie was one of the worst actors I've seen. They randomly break into song and dance in the middle of the movie as a "bonding experience" and they are all over dramatic, like characters from Glee. I hated this movie so much, it made me feel like I lost brain cells.