Working for Wrestling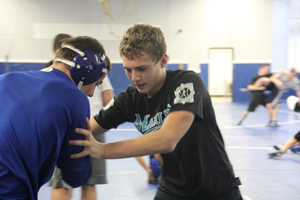 The wrestling season is in full swing, and the boys are practicing after school.
"During the season, we start off the day with running. After we run, we go upstairs and practice different takedowns, setups, shots and finishes. After that, we will go live or the coach will take us off to the side and work on a specific technique," Robert Geyer (12) said.
The boys wrestle each other and do drills every day to enhance their skills.
"Drilling is hard because it's fast-paced and intense. We go for long periods of time," Kodie Christenson (10) said.
The team not only does drills, but also trains with mock matches.
"We always end the practice with live wrestling and sometimes sprints. The hardest part of practice differs from person to person, but for me it's the live wrestling," Geyer said.